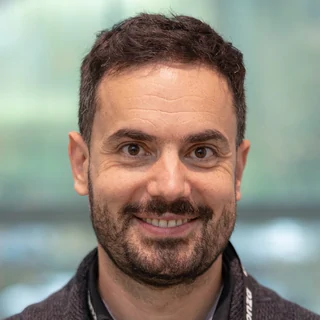 by Davide Zocco
Associate Director of R&D, Cell and Gene Technologies
Lonza Takes Innovative Steps in the Development and Manufacture of Exosomes
Exosomes are emerging as a promising new drug/drug carrier modality and there is widespread excitement around their potential. With the increasing understanding of exosome biology and function, the pharma/biotech industry is getting closer to harnessing their therapeutic properties to fight or deliver drugs that will fight diseases and viruses. At this stage, exosomes are showing potential in a wide variety of research, diagnostic and therapeutic applications. Several pre-clinical studies are indicating potent effects and early clinical data is emerging with encouraging safety and efficacy results.
Exosomes' natural functions in the body make them a potentially powerful drug and drug carrier. An exosome is an extracellular vesicle (EV) that is widely distributed in cellular systems that are secreted to exert specific biological functions. They play a significant role in many physiological and pathological processes. Exosomes often function as "communication vehicles," transferring bioactive proteins and genetic material between cells.1 That ability to "communicate" to other cells throughout the body can produce positive or negative outcomes. As every cell in the body produces unique exosomes with their own unique characteristics and contents, those unique and distinct signals can be distributed throughout the body. For example, exosomes produced from cancer cells may support cancer spread and development. On the other hand, exosomes produced from stem cells may promote anti-inflammatory and regenerative activity, like their originating cell.
Exosomes' ability to convey information and stimulate cellular activity has given rise to the concept that they can serve as a delivery system for therapeutic compounds to target specific diseases, injuries or viruses -- especially because exosomes are able to pass the blood–brain barrier. There is potential to use exosomes as a vector for delivery of proteins or nucleic acid payloads in therapeutic applications that fight diseases, modulate immune responses and repair tissues. If this can be achieved, the potential for exosomes is quite extensive.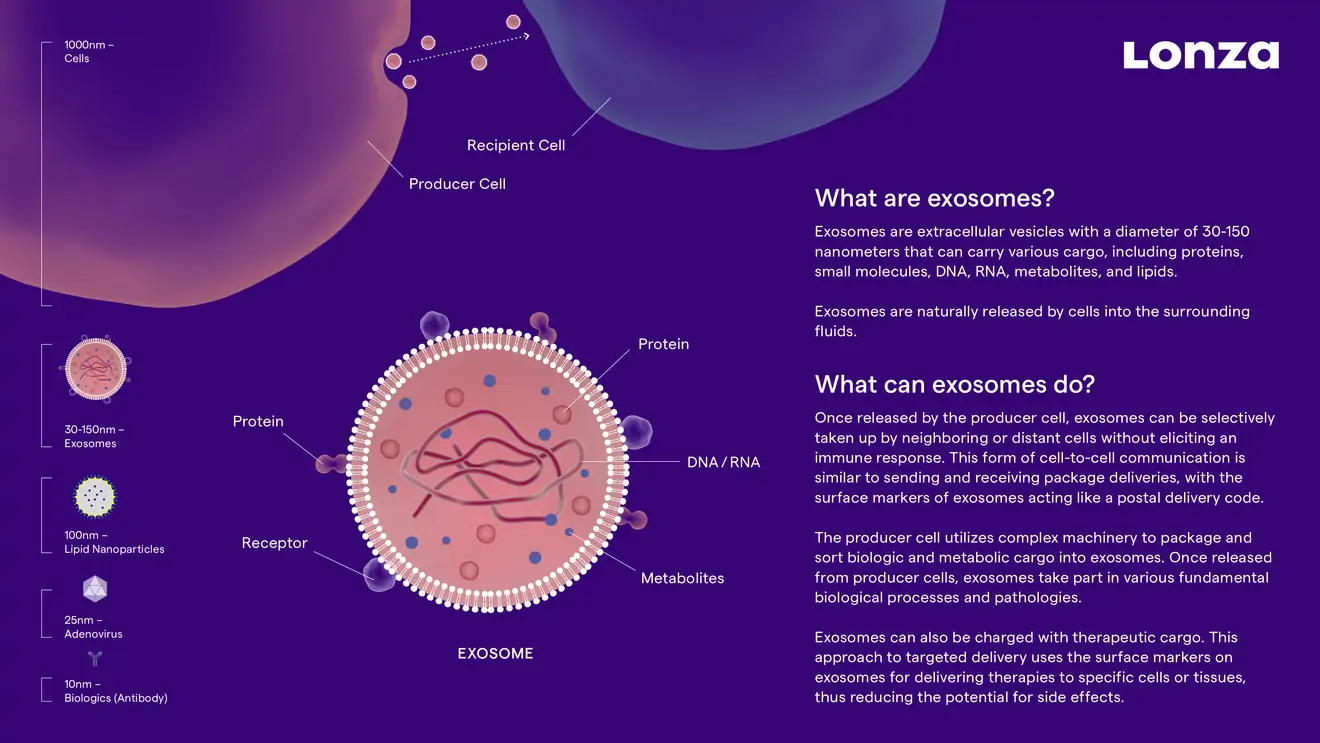 However, there is not a full understanding of the relationship between exosome's characteristics and function, and that lack of understanding is impacting the industry's ability to develop scalable solutions to separate specific exosomes from others. Isolation and purification of exosomes from the cell debris is complex, and it is even more difficult to isolate a particular subpopulation of exosomes. As exosomes are products of cells, their manufacture depends on the ability to produce large quantities of cells in ways that do not alter certain cell behaviors and characteristics.2 The potential for changes in cellular phenotype during technical transfer (e.g., scale-up and equipment change) is a key consideration. Alteration in any number of characteristics of the cell culture platform might alter the production, composition, attributes or function of the exosomes.3 Large-scale production of exosomes is also influenced by the specific therapeutic application, so it will be important to produce a therapeutic exosome composition that reflects the expression pattern of the parent cells.
Lonza has taken the initiative to be the first company to build out CDMO capability for supporting exosome-based therapeutics in order to be ready to develop commercial products when the time is right. To date, there are no commercial exosome-based products, but Lonza is currently working with three Research and Development clients on exosome therapies and are eager to advance to clinical trials to demonstrate benefits.
The path to commercialization for exosome therapy products has two distinct challenges. The first challenge is answering the question, "Do exosomes actually prove a therapeutic benefit compared to other modalities (e.g., LNPs)?". The second challenge comes in addressing the question, "How do we scale-up?" as we are not yet able to provide enough drug substance for commercial use.
Lonza is undertaking substantial buildout for the development of exosome therapies to answer both of these questions. The company currently has functional exosome development at Walkersville-Shady Grove and has undertaken technology transfer to its Houston facilities. In addition, Lonza recently acquired Codiak Biosciences, an exosome manufacturing facility. With that acquisition, Lonza added a 500L perfusion bioreactor and downstream process for the production of exosome drug substance and product to its current 3L STR Bioreactor and downstream process with fully scalable unit operations.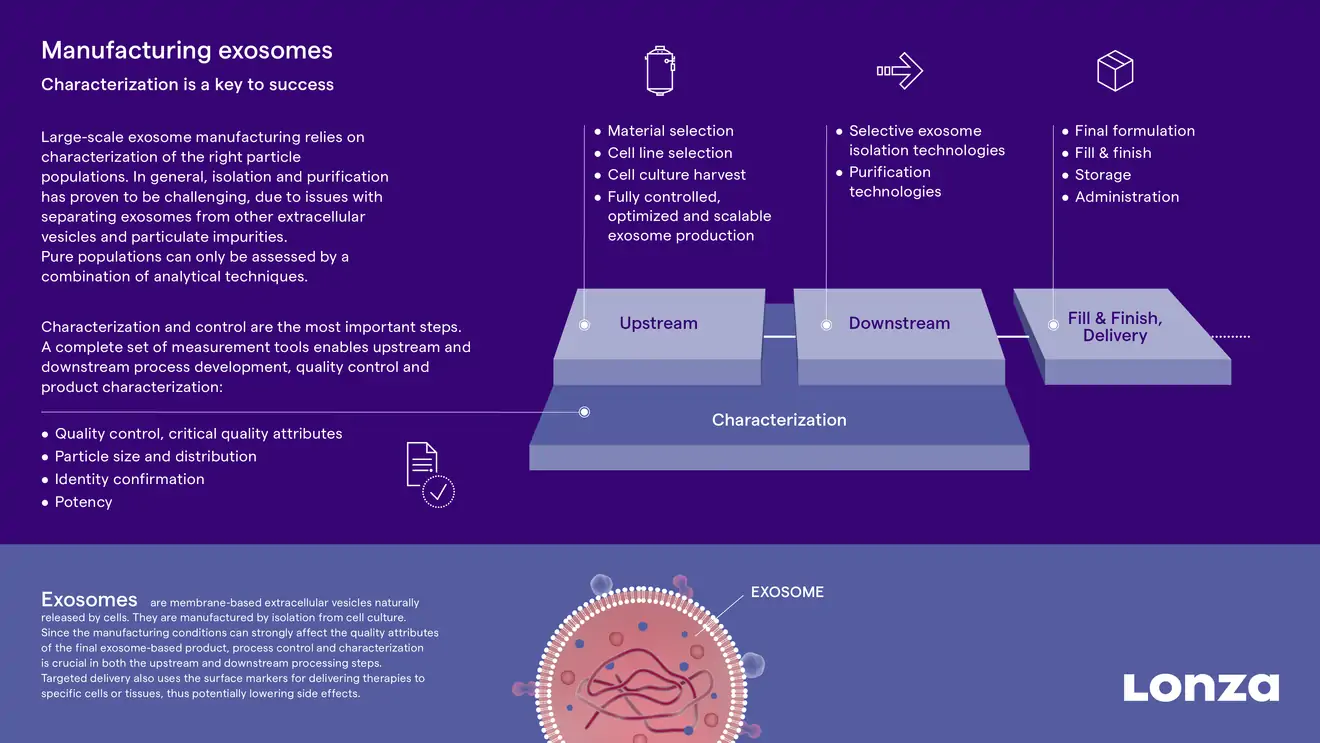 Additionally, Lonza's expertise in upstream and downstream unit operations of viral vectors will be used as a starting point for building out an exosome manufacturing process. Since exosomes are extremely complex, advanced analytics will be required. Therefore, Lonza has developed state of the art characterization toolbox, including single exosome analysis with nanoflow cytometer, to analyze exosome products
Lonza's goal is to become the pre-eminent, end-to-end solution for exosome-based therapies. The company has recently, and will continue to, put in place multiple development and manufacturing solutions to serve clients that are looking to develop engineered exosomes with tissue-specific properties for targeted delivery of therapies that harnesses exosomes' potential regenerative, viral fighting and disease-fighting potential.
1 Manufacturing Exosomes: A Promising Therapeutic Platform -Trends in Molecular Medicine
2 Exosome manufacturing status - Future Science
3 Exosome manufacturing status - Future Science
---
Additional Information and Disclaimer
Lonza Group Ltd has its headquarters in Basel, Switzerland, and is listed on the SIX Swiss Exchange. It has a secondary listing on the Singapore Exchange Securities Trading Limited ("SGX-ST"). Lonza Group Ltd is not subject to the SGX-ST's continuing listing requirements but remains subject to Rules 217 and 751 of the SGX-ST Listing Manual.
Certain matters discussed in these articles may constitute forward-looking statements. These statements are based on current expectations and estimates of Lonza Group Ltd, although Lonza Group Ltd can give no assurance that these expectations and estimates will be achieved. Investors are cautioned that all forward-looking statements involve risks and uncertainty and are qualified in their entirety. The actual results may differ materially in the future from the forward-looking statements included in these articles due to various factors. Furthermore, except as otherwise required by law, Lonza Group Ltd disclaims any intention or obligation to update the statements contained in these articles.